Ben Enwonwu, a well-known Nigerian artist, was given a royal commission before she arrived to construct an official statue to honor her visit, making him the first African artist to do a statue of Elizabeth.
It was 1956, and Queen Elizabeth's maiden trip to Nigeria was the subject of tremendous excitement. Only a few years into her reign, the youthful monarch was paying a much-anticipated visit to the unrepublican West African nation.
Ben Enwonwu started working on the sculpture and paid many sittings at London's Buckingham Palace.
The Royal Collection Trust, which is in charge of looking after the British royal family's art collection, stated that "Queen Elizabeth II sat for Enwonwu for a massive bronze sculpture in 1957."
According to the website of the Ben Enwonwu Foundation, Queen Elizabeth sat for Enwonwu twelve times, eight of them were in Buckingham Palace.
The remaining sittings took place in Sir William Reid-private Dick's studio, where he worked with Enwonwu at the Royal Society of British Artists.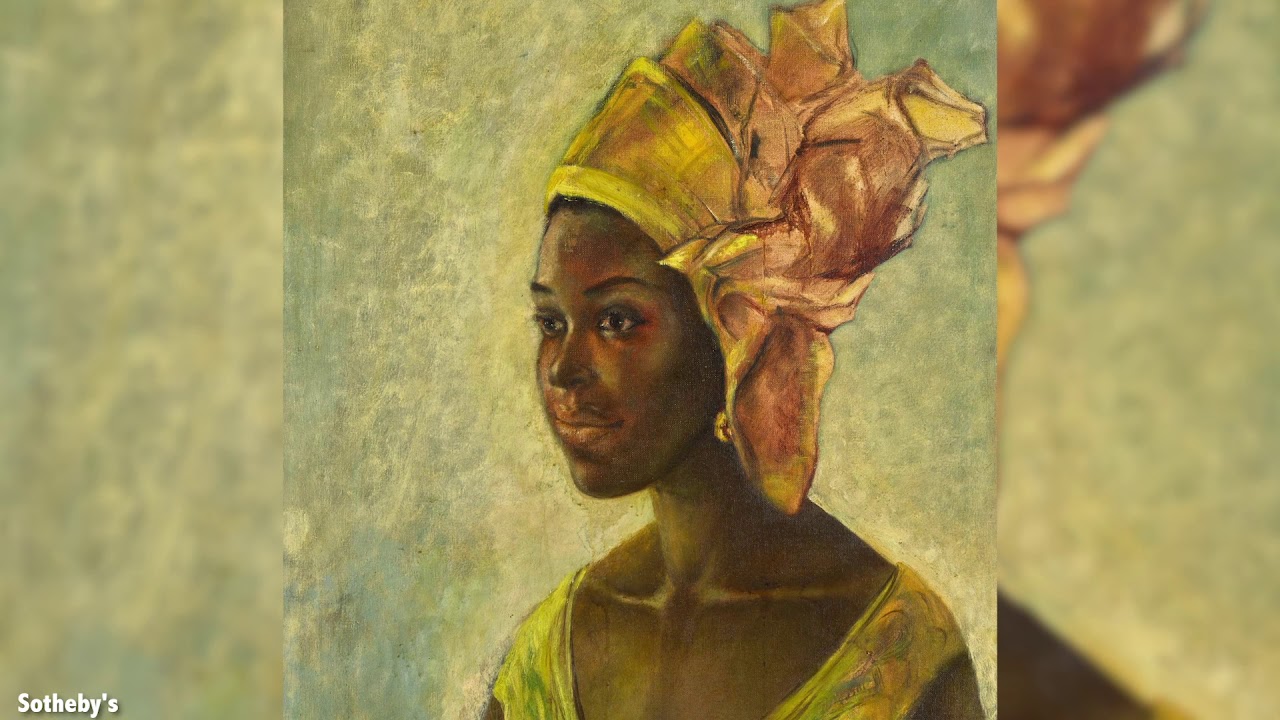 A painting by the late Nigerian artist Ben Enwonwu sells for $1.5 Million
Enwonwu finished the sculpture in 1957, which at the time caused considerable controversy since it showed the queen with bigger lips. Ben Enwonwu's s,on Oliver claimed that "Africanizing" his subjects was a defining characteristic of his writing.
According to Oliver Enwonwu, "the sculpture earned some raving reviews because the artist portrayed the queen through his African eyes and the piece featured African features, which was characteristic of his work."
One of his father's best creations, according to Oliver, who is also a well-known artist, was the sculpture of the queen.
"It made my father incredibly happy. It was one of his masterpieces and demonstrated his artistry skill "He informed CNN.
"Because Enwonwu was an African artist, it was a great event when he created a sculpture of the queen.
But because he was at the time the most well-known person in the Commonwealth, it was quite simple to choose him "Oliver threw in.
The bust was acquired by Queen Elizabeth, who also owned many of Enwonwu's paintings and another sculpture by the artist, according to the Royal Collection Trust, yet the sculpture ultimately ended up in Nigeria.
The bronze statue of the queen was later erected at the Nigerian parliament building in advance of the nation's 1960 separation from Britain. Currently, the piece is housed in the national museum of Nigeria.
One of Africa's best modernists, Enwonwu has earned a reputation for his work. At a London auction in 2018, his painting of Nigerian princess Adetutu "Tutu" Ademiluyi, known as the "African Mona Lisa," fetched more than $1.6 million (£1,205,000).
Odinigwemmadu Ben Enwonwu, also known as Benedict Chukwukadibia Enwonwu (MBE), was a prominent African artist who achieved international acclaim in the 20th century. His work continues to inspire, and his five-decade career was a remarkable depiction of African art.
He started his official art study in 1933 at Government College, Ibadan, and finished it in 1937 at Government College, Umuahia, both under the instruction of British art teacher for the colonial administration Kenneth Crossworth Murray.
Enwonwu began to gain international recognition after taking part in an exhibition at London's Berkley Galleries in 1947, where he displayed his work among well-known European modernists.
Following this, the artist presented a number of exhibitions in 1950 at Howard University in Washington, DC, New York City, and Boston.
The same year, the artist also staged a significant exhibition at Gallery Apollinaire in Milan. Additionally, shows in renowned museums like the Tate, the National Gallery of Lagos, and the Smithsonian National Museum of African Art in Washington, D.C., have featured Enwonwu's works.
After a successful solo exhibition, Enwonwu received a scholarship in 1944 from Shell West Africa and the British Council to study fine art in the UK.
He attended Oxford University and obtained a traditional education at London's Slade School of Fine Art. Later, Enwonwu went back to Nigeria and started teaching.
Since 1950, the international media has hailed Enwonwu as "Africa's Greatest Artist," and the Black Nationalist movement has benefited from his reputation on a global scale. On Mercury, a crater bearing his name is called Enwonwu.
King Charles III unveiled a magnificent statue of the late Queen Elizabeth II at York Minster Cathedral in England, the memorial is housed in a niche.
Barbara Hamilton was honored to be invited to Windsor Castle on the occasion of the Platinum Jubilee so she could paint Queen Elizabeth II. In the UK, the 70th anniversary of the Queen's reign is respectfully observed.
In 1971, the University of Ife, now known as Obafemi Awolowo University, designated him as Nigeria's first professor of art.
Nine years later, the Nigerian government gave him a National Merit Award. At the age of 77, he passed away in 1994. Ben Enwonwu was regarded as one of the most esteemed African painters of the 20th century at the time of his death and would remain so after.