Nigeria's Bola Tinubu Sworn In As President, Facing Divided Nation And Economic Woes
Breaking News: Nigeria's Bola Tinubu sworn in as president, facing divided nation and economic woes. The ceremony took place amid tight security at Abuja's 5,000-person capacity Eagle Square location.
A national holiday was announced, and Nigerians who did not have an invitation were advised to stay away from the ceremony. The results had been contested by opposition groups, and there were worries of civil disorder.
Tinubu described his inauguration as a "sublime moment" in his inaugural speech. Tinubu, who becomes the sixteenth president of Nigeria said:
"

"

We have endured hardships that would have made other societies crumble. Yet, we have shouldered the heavy burden to arrive at this sublime moment where the prospect of a better future merges with our improved capacity to create that future.- Bola Ahmed Tinubu
COPYRIGHT_TNB: Published on https://www.thenigerianblogger.com/nigerias-bola-tinubu-sworn-in-as-president-facing-divided-nation-and-economic-woes/ by Abeo Bunkechukwu on 2023-05-30T17:17:42.024Z
His inauguration marks the fulfillment of a lifelong desire to rule Nigeria, but he faces significant hurdles.
He received only 37% of the votes cast, the lowest of any elected Nigerian president since the country's transition from military to democratic governance in 1999. As his inauguration began, the hashtag #Tinubunotmypresident became popular on social media.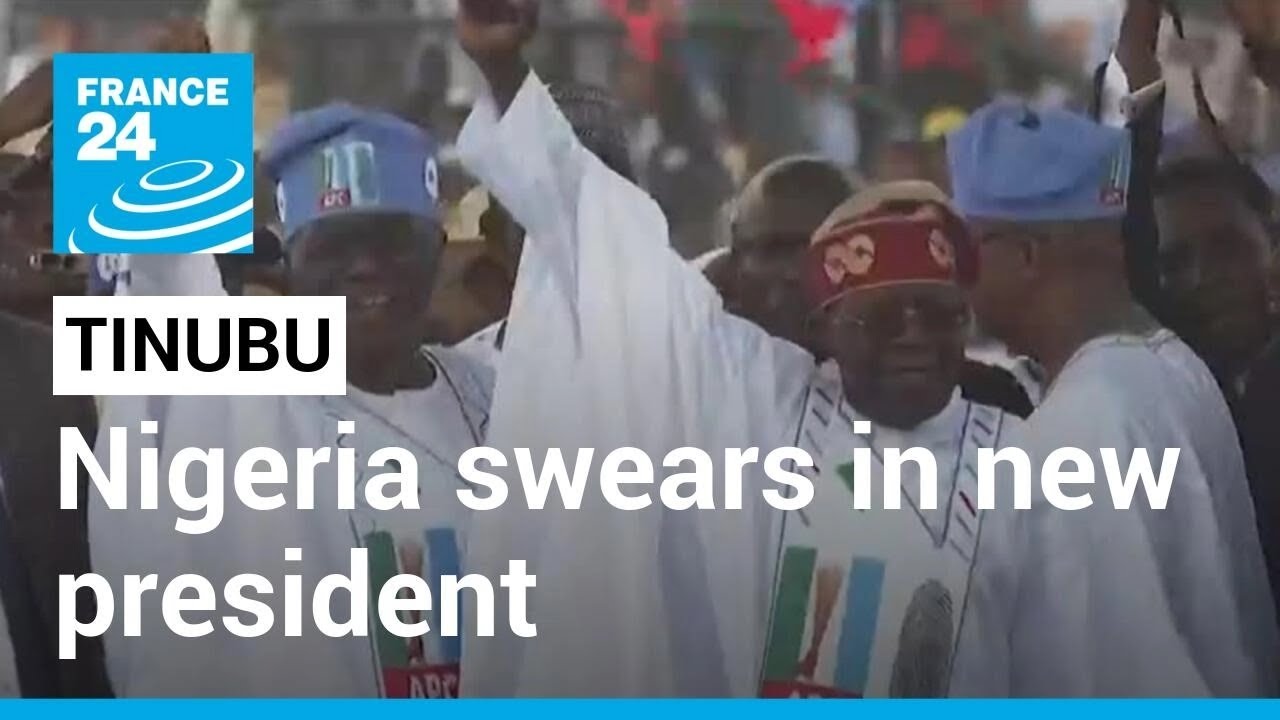 Nigeria swears in new president: Bola Tinubu takes over as leader of divided nation • FRANCE 24
Nigeria's long-standing ethnic and religious tensions became even more heated during the February elections, which were marred by violence and sparked worries about anomalies and claimed attempts to disenfranchise voters.
His political opponents have filed a legal challenge to the outcome. However, Tinubu has stated that he will unite the nation and has urged those who do not support him to support his plan.
"Those who did not support me, I ask that you not let this moment's disappointment keep you from realizing the historic national progress we can make by working together," he said in March.
Analysts think that reviving the fortunes of Africa's largest economy is a major problem that Tinubu must face straight on right away.
Nigeria has roughly $103 billion in debt and is experiencing historic levels of inflation, severe unemployment, and a strong reliance on declining oil earnings, which has resulted in a brain drain catastrophe called locally "japa," or escape. Remi Adekoya, a political analyst and associate lecturer at the UK's York University said:
"

"

The key to solving most of the major issues in Nigeria today… rest on him being able to kickstart Nigeria's economy and improve the finances of the Nigerian state. This is needed to reduce Nigeria's unsustainable debt burden.- Remi Adekoya
Tinubu, according to Adekoya, is "very pro-business," which should attract much-needed foreign direct investment. "Foreign investors would see him as a welcome change from the business-sceptic former President Buhari. This could work in Nigeria's favor," he remarked.
According to Rolake Filani-Akinkugbe, an analyst and the chief commercial officer of Mixta Africa, Nigeria also suffers a slew of socioeconomic issues, including insufficient access to education and healthcare systems, widespread poverty, and gender inequality. Tinubu must try to increase his "political and social capital," according to Filani-Akinkugbe.
"There's still huge polarization between the ultra rich and super poor. And in some ways successive governments have lost the social contracts of the majority of the population," she said.
Insurgencies, banditry, and communal strife have plagued Nigeria, posing substantial risks to the country. Confronting insecurity remains a top priority for Tinubu's administration.
Kidnapping for ransom became a big criminal activity under former President Buhari's tenure, making Nigerians in some parts of the country fearful of going about their daily lives.
Tinubu is now the commander-in-chief of the armed forces, yet he has no military background, unlike many prior Nigerian presidents.
During his inaugural address, he pledged to make security "the top priority of our administration because neither prosperity or justice can prevail against insecurity and violence."
Tinubu also vowed to increase his investment in training and security equipment.
Adekoya believes Tinubu would establish his government fast, unlike his predecessor, who took six months. Adekoya added:
"

"

Tinubu is a pragmatist who has shown he can spot talent … and promote them so I do expect him to have a competent cabinet.- Tinubu
Millions of people's hopes and dreams are riding on his shoulders, and the road to growth will be difficult as Nigerians wait for the revolutionary leadership that Tinubu and other succeeding leaders have promised.
Tessy Olabisi Ologun, an unemployed Lagos resident, told CNN, "I believe there's a future if the leaders they can lead us right. Our country is blessed, and I believe he is fitting for the position."
Share:
Twitter

|
Facebook

|
Linkedin