When going to Nigeria, you're not only visiting their places but also their good foods. And not only good foods but also healthy Nigerian foodsfor weight loss.
Yes!
Nigerian food is not only delicious, but it can also help you stay healthy and lose weight.
It is also said that the food there is made to keep doctors away, which is pretty cool for me.
They make sure that you will not have a negative note or experience with their food reactions while also benefiting from them.
Weight loss refers to the total loss of body mass, which can be done by losing fat, or lean mass.
Weight loss can happen unintentionally if you don't get enough food or have an underlying disease.
To lose weight with the goal of doing so is called "slimming". When you slim down, you try to lose weight or make yourself look slimmer, usually by dieting.
We can all agree that the main treatment for being overweight or obese is to lose weight.
It is important because many people are suffering from obesity and can't do stuff, and chores anymore just by themselves.
And it can also be the reason to get more physical body problems.
There is some good news:You can! You can, in fact, lose weight on Nigerian food by switching out high-carb dishes for low-carb ones.
A low carb diet, also known as the keto diet, is a low carb, high fat, and medium protein diet that makes it easy to lose weight and has a lot of other food things going for it.
If you want to stay healthy, you should eat a lot of different healthy foods, and limit the fat you eat from animal foods.
This could include grains and legumes as well as roots and tubers as well as fruits, vegetables, fish, and lean meat (wara).
Limit the amount of salt, bouillon cubes, and sugar you eat. It is encouraged to eat a lot of whatever fruit is in season.
Also known as unpolished rice in English. Ofada rice is a popular type of rice in Nigeria.
And why is it called unpolished rice? because it is rice in its natural state and hasn't been genetically changed.
It is very healthy and better for you than white rice and is identified as brown rice.
Rice made from Ofada has a lot of B vitamins, minerals like phosphorus and zinc, and a lot of protein that can help you burn calories more quickly.
Also known as Bambara groundnut in English. Nigerian food called Okpa is very popular in the eastern parts of Nigeria, and it tastes great.
Okpa is a traditional food in Nigeria. Vorandzeia Subterranean Thouars is the flour used to make it.
People who want to make the flour from scratch can grind dried Bambara nut or bean shells.
Okpa helps with digestion and is good for weight management or losing weight.
But the amount of oil used to make it should be kept to a low level so you won't create more fats in your body.
Cowpea originated in Africa and is widely grown in Africa, specifically in Nigeria.
Cowpeas are not only creative and tasty, but they also have a lot of healthbenefits for people.
Many of them may help with digestion, help people with sleep problems, help people with diabetes, and protect the heart from damage.
They also cleanse the body, help with weight loss, and improve blood flow.
Yes, it is, because cowpeas have a lot of protein and soluble fiber, they can help you lose weight by making you eat less food.
There aren't many people outside of Africa who know about the traditional spices that are used in pepper soup.
In Nigeria, expatriates make a pepper soup seasoning mix out of allspice and anise pepper.
They also add anise seed, cloves, coriander seeds, cumin seeds, dried ginger, and tamarind pulp.
If you want to lose weight in Nigeria, pepper soup is one of the best healthy foods for you.
It makes you drink more water and eat less, which makes you lose weight.
A rise in body temperature caused fat to be burned and expelled through sweat, which made the fat less dense.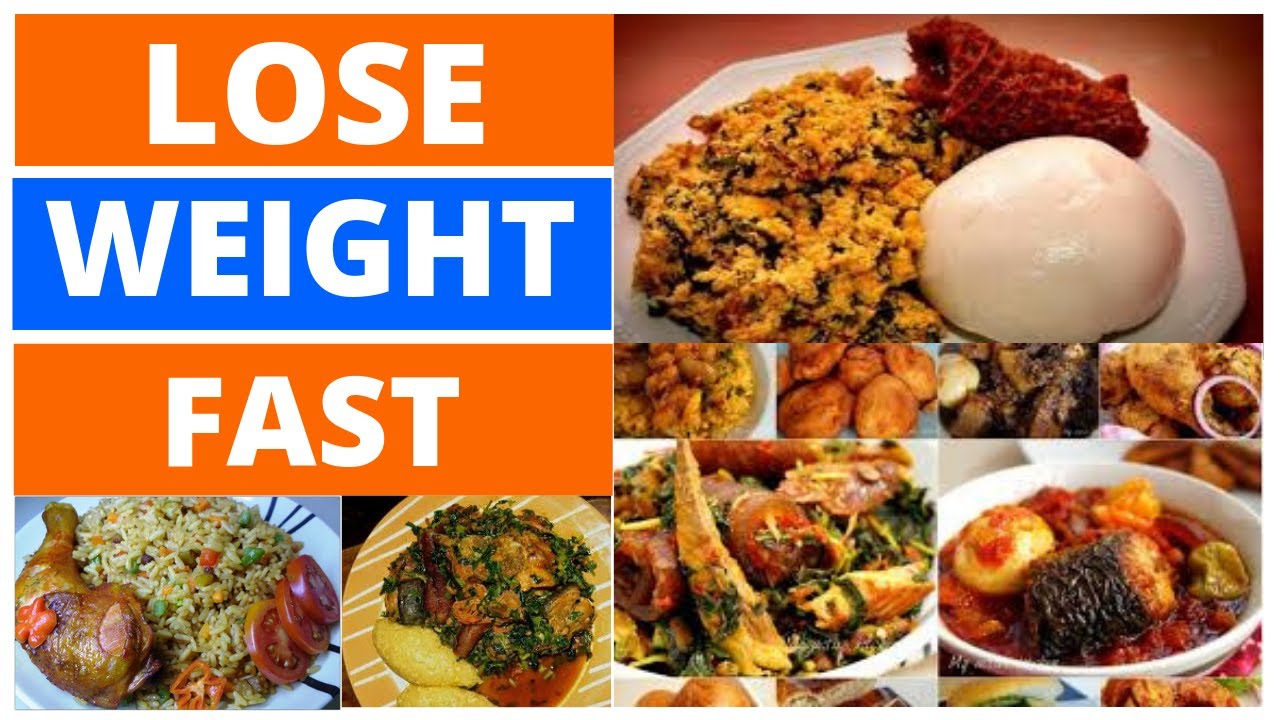 🔥 How to Lose Weight FAST in Nigeria (While Enjoying Delicious Foods)!
Here are the steps on how to do it fast:
Calculate your calories intake and body mass index (

BMI

).

Set realistic weight loss goals.

Get off the scale.

Identify and consume healthy protein, fat, and vegetables.

Breakfast is the best way to start the day.

Reduce your carbohydrate intake.

Reduce your salt intake.

Reduce your sugar intake.
Protein-rich foods include fish, eggs, chicken, and beans.

Fiber-rich foods include

healthy fruits

, vegetables, and whole grains.

Full-fat dairy.

Nonstarchy vegetables such as broccoli and peppers.

Complex carbohydrates such as oatmeal and sweet potatoes.
Finally, this article has given you the best healthy Nigerian foods for weight loss. You can lose weight by eating these healthy Nigerian foods.
Consume a lot of vegetables. Because vegetables are low in calories and high in nutrients, they can help you lose weight while still eating a portion of healthy diet food.
Reduce your intake of sugar and sweetened beverages.
Sugar is high in calories and can lead to weight gain, so limit your intake as much as possible.
This includes fruit juice, which contains a lot of sugar in comparison to the amount of actual fruit in it.
Instead of refined grains or processed foods like white pieces of bread or pasta, eat more whole grains.
Whole grains are high in fiber, which keeps you fuller for longer and helps you maintain a healthy weight.