Nigeria's President Swears In A 45 Member Cabinet And Promises To Accelerate Reforms
The Nigeria's president swears in a 45 member cabinet and promises to accelerate reforms. It took Nigerian President Bola Tinubu more than three months after his election to complete the process of administering the oath of office to 45 ministers, which took place on Monday.
During the course of his talk, President Tinubu reaffirmed his dedication to accelerating the process by which his administration will carry out its development agenda. The mission of the Cabinet is to improve the economic conditions of Africa's largest economy and most densely populated nation, which is suffering economic issues that have been made worse by the recent policies introduced by the new government.
A substantial section of the population is now enduring these economic challenges, and the Cabinet's goal is to improve these conditions. These measures have immediately increased the financial burden that is placed on millions of Nigerians who are already living in poverty.
Tinubu emphasized that the establishment of the Cabinet provides an excellent chance to make much-needed changes that have been postponed for a long length of time. This statement was made during an inauguration ceremony that was conducted in the city of Abuja, which is the capital of Nigeria. Tinubu recognized the serious issues that Nigeria is now facing.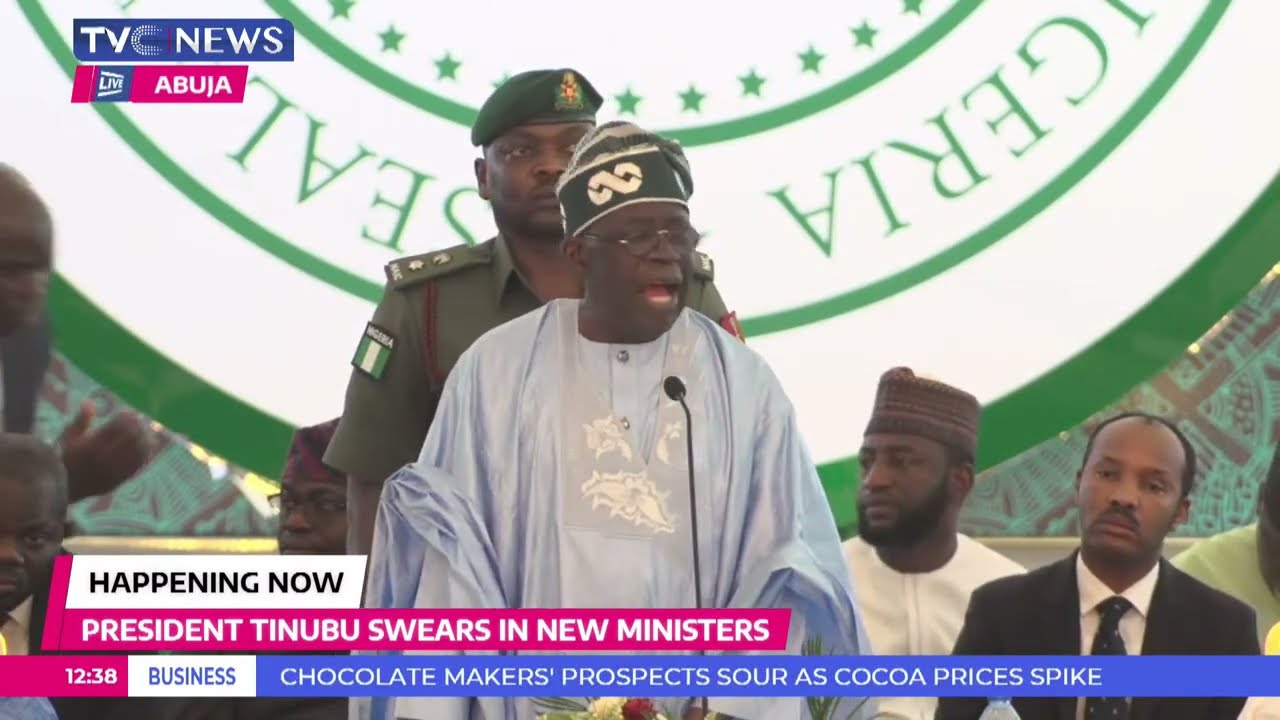 VIDEO: President Tinubu's Full Speech At Swearing-In Of New Ministers
COPYRIGHT_TNB: Published on https://www.thenigerianblogger.com/nigerias-president-swears-in-a-45-member-cabinet/ by Abeo Bunkechukwu on 2023-08-23T07:10:08.693Z
The president told the ministers:
"

"

We must hold each other responsible; we have to do the job to meet the expectations of all Nigerians.- President Bola Tinubu
Since the country's return to democratic rule in 1999, Nigeria now has the largest Cabinet it has had since the changeover to a democratic system. As a result of this trend, charges have been made regarding the high levels of government expenditure, despite Tinubu's pledges that he will adopt steps to lower costs.
In Nigeria, less than twenty percent of cabinet positions are held by women, which is consistent with a pattern that has persisted for a long time of minimal female engagement in administrative roles.
Some party stalwarts, notably former governors who played a big role in gaining popular support for Tinubu during his presidential campaign, were included in the cabinet composition along with persons from the private sector who had knowledge of technology and business. In addition to these individuals, the composition of the ministerial team included members of the private sector who had such skills.
The position of Minister of Finance and Coordinating Minister of the Economy has just been given to Wale Edun, a man who formerly worked in investment banking. In addition, Ali Pate, who was once a director at the World Bank and who turned down an opportunity to lead the global vaccine alliance Gavi, has been appointed as the Minister of Health and Social Welfare.
Chief Bola Ahmed Adekunle Tinubu GCFR, born March 29, 1952, is the 16th and current President of Nigeria. From 1999 until 2007, he served as governor of Lagos State and as senator for Lagos West under the Third Republic.
Tinubu's presidency officially began on May 29, 2023. during 10:41 a.m. (WAT), he was sworn in as President of Nigeria by Chief Justice of Nigeria Olukayode Ariwoola during an inauguration ceremony held in Eagle Square in Abuja.
After clearing the legal challenges of the opposition following the March election, his government is widely considered as uncontested and has international legitimacy. Several leaders of state and government were present for the event.
On May 25, 2023, Tinubu was awarded the highest national honor of Grand Commander of the Order of the Federal Republic by his predecessor Muhammadu Buhari, while his Vice President Kashim Shettima was awarded the second highest honor of Grand Commander of the Order of the Niger.
Very recently, during the 2023 Nigerien crisis, he called for military involvement in Niger, and the opposition criticized this.
Share:
Twitter

|
Facebook

|
Linkedin