Top 4 Early Warning Signs Of Business Failure In 2022
When business owners take preventive measures and seek assistance, they will be less vulnerable to economic downturns and are more likely to survive and flourish.
According to statistics, eight out of every ten entrepreneurs who start a business fail within the first 18 months. In reference to a study conducted by Basil in 2005, the majority of small and medium enterprises, particularly in Nigeria, die within the first five years of operation; a smaller percentage dies between the sixth and tenth years of operation; and only about 5% to 10% of young businesses survive, thrive, and grow to maturity.
Entrepreneurs frequently express their dissatisfaction with the difficulty they have in raising finance.
Experts, on the other hand, have identified major problems that frequently drag down firms and, if not addressed, may cause them to fail. We have listed early warning signs of business failure below.
COPYRIGHT_TNB: Published on https://www.thenigerianblogger.com/early-signs-of-business-failure/ by Abeo Bunkechukwu on 2022-04-02T14:56:44.959Z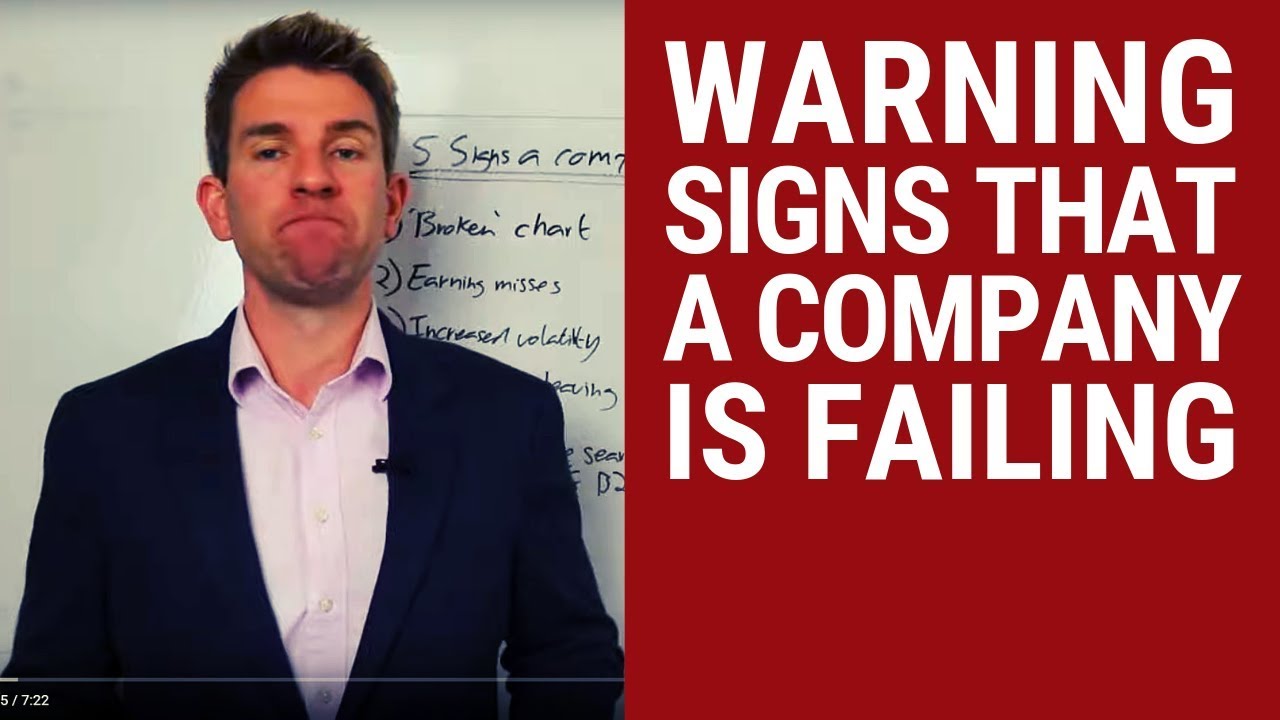 5 Warning Signs A Company is Failing 🖐
Funding an unprofitable venture
Mrs. Adeola Olaniyi, Managing Director of Maxim Business Services, believes that all business ideas are wonderful, but not all of them are successful.
Entrepreneurs who are eager to make money, she claims, forget to strategize and consider the profitability prospects of their businesses before investing all of their resources.
She emphasized the need of writing a well-thought-out business plan that outlines what the company wants to accomplish, how it plans to accomplish it, and what resources will be required. She goes on to say that the majority of business plans aren't bankable since they don't answer key issues.
"It's important to choose an industry where you can achieve sustained growth, " Olaniyi explains."Having a positive cash flow is very important. It takes more than a good idea and passion to stay in business."
Uncontrolled expansion
When a new firm breaks even, most entrepreneurs add other services to the existing one instead of growing and strengthening the profitable one, according to Olaniyi.
Slow and steady expansion, she claims, is more sustainable. She goes on to say that pursuing a variety of enterprises can deplete resources and impair overall profitability.
According to Olaniyi, the higher expenditures of new stocks incurred to accommodate new client demand will eventually result in a loss.
"Unfortunately, if the economy crumbles, loans and other funds may not be repaid," she continues. "When you go after it all, you usually become less selective about customers and products, both of which drain profits from your business."
Lack of legal backing
A business can be created as a single proprietorship, a partnership, or a limited liability company, according to experts. While a solo proprietor and partners are usually not separated from their firms, limited liability corporation owners are.
Essentially, a corporation is a legal entity distinct from its shareholders or managers, and its affairs must be kept separate from those of the owners.
Mr. Sola Adeyiga, Faculty Director, Soar and Heritage, says this covers the company's bank accounts as well as other assets and obligations.
"Unfortunately, most small business owners in Nigeria do not separate their enterprises from themselves," he explains. They are the chairmen or chief executive officers, and as such, they have the authority to withdraw funds from the company's accounts for personal use without being reimbursed."
He believes that a business owner who also works for his company as an employee must pay himself a salary. While such a pay must be adequate, it must also be within the company's budget. Aside from a salary, a business owner who works for the company as an employee may be eligible for incentives and profit-sharing, just like other employees. As a corporation stakeholder, he is, nonetheless, entitled to a dividend.
Profit sharing and dividends should be paid from net profits, he says. Small businesses should stop withdrawing funds from company bank accounts for personal use without restriction, as this has no potential to build the company.
Diversion of funds
Taking business risks, according to experts, has its own benefit because it may encourage entrepreneurs to be more creative and expose them to new chances and challenges, but the outcome is not assured.
According to Adeyiga, the desire to make quick money has been the undoing of many business entrepreneurs who have ventured into business prospects they have no knowledge of.
Although business owners are expected to take risks, he says this does not mean they should put their companies' and other stakeholders' futures in jeopardy by diverting funds intended for the company into a completely different business or a non-operational project without sound and objective planning.
Diversifying into new enterprises, according to Adeyiga, should only be done after a thorough examination of the potential and how such investment will impact the present company lines. Businesses are based on cash, and any attempt by business management to deprive them of cash through excessive reinvestment in opportunities outside the business line can be disastrous.
Of course, how you define "fail" is a huge component of these kinds of statistics, and it makes a difference.When you think of a "failed" business, you probably picture something spectacular, tragic, and depressing. Nonetheless, starting a business is undoubtedly dangerous.
The good news is that you can always beat the odds, as many well-known figures have proved. Oprah Winfrey, Jeff Bezos, Bill Gates, and Steve Jobs are just a few examples. Isn't it true that if they can accomplish it, you can too?
Learning from the greats is vital, but so is learning from the not-so-greats; those entrepreneurs who saw their aspirations crash to the ground. Their life lessons are equally valuable, so make sure you paid attention to the warning signs we mentioned above.
Share:
Twitter

|
Facebook

|
Linkedin